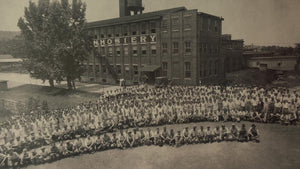 Sock Capital of the World
Proudly Continuing a Century Long Sock Making Tradition
Generations of sock makers
Deep in the Appalachian Foothills, our hometown of Fort Payne, Alabama has a rich history in textile manufacturing. Fort Payne has been making socks since the early 1900s and even supplied the socks for American soldiers in World War II. At the industry's peak in the late-1990s, there were approximately 150 local sock mills that employed more than half of our residents and had an annual payroll upwards of $150 million. One out of every eight pairs of socks produced globally were made here, earning Fort Payne the title "Sock Capital of the World."
times changed
The Locklear family is proud to be a part of the tradition. Our founder Gina's grandmother was knitting socks locally in the 1950s, and her parents started their own mill in 1991, naming it "Emi-G Knitting" after their two daughters. The sock business in Fort Payne boomed until the early 2000s when outsourcing became prevalent and production shifted away from American-made products to lower-priced companies located overseas. In Fort Payne, generational sock mills and all the small local businesses that supported their trade no longer had customers to supply with socks. There was no choice but to close their doors. The booming sock industry in our small north Alabama town all but disappeared almost overnight.
Reimagined
Emi-G was forced to reimagine our business model and shifted our focus from making classic white athletic socks for other brands to creating our own colorful and stylish organic cotton socks. It was a gamble, but fortunately the concept gained traction. As zkano has grown, the textile industry in Fort Payne has regained its footing, contributing again to the local economy. We are proud to be an American-made product, located in the Sock Capital of the World.