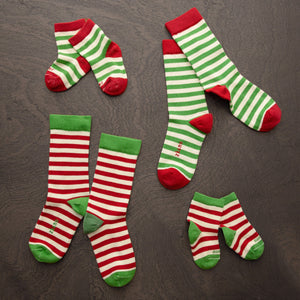 Made in America since 2009
Knit with U.S. Grown organic cotton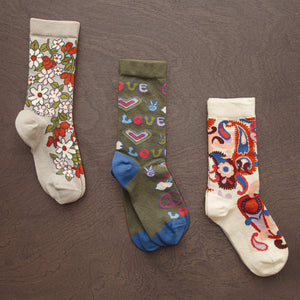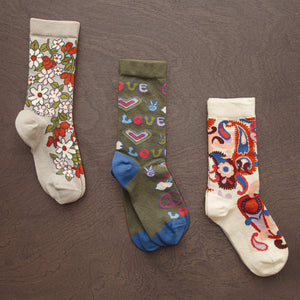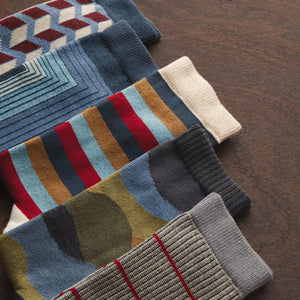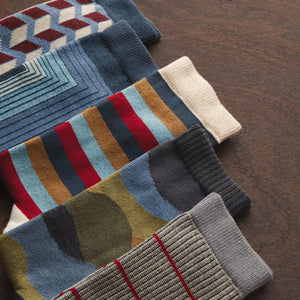 What we believe in...
manufacturing our products in America
sourcing only U.S.A. grown organic cotton
using low-impact dyes
recycling textile waste
donating socks to those in need
supporting small businesses
making our customers happy
Be good. Feel Good.
★★★★★

Superb socks!

I'm much impressed by the quality of these socks. They are the perfect weight, flawlessly knit, and quite comfortable, not to mention stylish.

Karl v. S
★★★★★

I love zkano socks.

None of my zkano socks have holes in them and it's been over 7 years with some pairs!

Taylor R.
★★★★★

Love these socks!

These are my go to socks :) The organic cotton, durability, style and feel has got me hooked!

Rosie S.
★★★★★

Perfect!

Comfy, well made, great fit, BEAUTIFUL & made in the USA!

M. Freeland
★★★★★

Two thumbs way up

These are the best socks on the planet. High quality material, great design, comfortable, and long wearing.

Nancy
★★★★★

I love your products.

Soft, cushy and so comfortable.

Elaine O.
Our story
we are passionate about making our socks here in Fort Payne, Alabama and we also care deeply about where our raw materials come from. our organic cotton is grown, spun and dyed in the U.S. and we know who we're working with every step of the way. our cotton farmers and yarn spinners are kind, hard-working people in West Texas and North Carolina — which means our socks are born and bred in the South.

partnering with folks right here at home allows us to ensure our socks are some of the most comfortable, durable, and environmentally friendly socks around.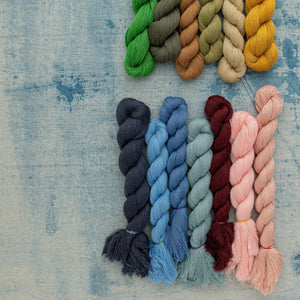 Learn more about our sustainable practices from organic cotton, to low impact dyes and recycling
American Made Organic Cotton Socks for Men, Women & Kids
At zkano we proudly manufacture the finest organic cotton socks at our small family mill in Fort Payne, Alabama. We exclusively use eco-friendly, ethically sourced organic cotton grown in west Texas and dyed in North Carolina for a more sustainable product. We have a close relationship with all our suppliers and we oversee each step of our manufacturing process from beginning to end. From the field to our mill to your feet, we think you'll feel the difference in our organic socks made in the USA
We make socks for the whole family. Shop our American made socks for men, women and kids in solid, stripes, dots and colorful patterns.
Organic Cotton Fashion Socks for Women
Our colorful selection of organic cotton fashion socks for women are comfy and will go with anything. We carry a great selection of cotton socks for women including ankle, crew, knee-high, slouch, sport, basic and no show socks in colorful patterns, creative designs and solid colors. 
Knee-high, roll top & slouch socks
Knee-high socks are an accessory you can build your whole outfit around. Pair our knee-high socks with a dress, skirt, or over leggings to enhance your outfit and keep your legs warm in cold weather. Dressed up or down, our knee-high socks will be a colorful compliment to any outfit. For a relaxed casual look, browse our organic cotton slouch socks for women. Our slouch socks are comfortable, soft and stylish. These roll top socks come in solid colors, stripes and whimsical patterns. 
Crew, Basic & Sports Socks for Women
Browse our organic cotton crew socks in a yummy array of colors, designs, patterns, stripes and dots. Our rib knit crew socks for women are as pretty as they are comfortable. We've designed our crew socks to be super soft and long-lasting. Our crew socks for women are knit with combed organic cotton and are available in medium and women's size large. Zkano's sustainable women's socks are well-made, comfortable and will fit your foot perfectly. With reinforced heel and toe construction, our crew socks will hug your foot and retain their shape. For the athletic type, we carry basic sports socks made with organic cotton. Zkano's no show socks sit just below the ankle. Our basic sports socks are breathable and come in white, black and natural solid colors. Buy our American made sports socks in individual pairs or packs of 3.
American made socks for men
We carry men's crew, basic, sport, boot and dress socks with creative patterns, colorful designs and solid colors. If you're looking for a pair of socks for a special occasion, work or business check out our over calf socks. These stylish socks for men are made with organic cotton and come in navy, gray and black. Our organic cotton dress socks will look great with a suit or tuxedo. For casual, everyday socks shop our men's crew socks. With reinforced heel and toe construction, our men's crew socks will hold their shape wear after wear. If you need a durable, heavyweight sock for work or cold weather, our heavyweight crew is what you need. This heavyweight crew sock is fully cushioned for comfort and warmth. Need a sock that's great for winter? Our boot socks for men will keep your feet warm and toasty in the colder months. Made with organic cotton they have a plush, terry-lined cushioning from top to bottom to give you maximum comfort. Browse our entire selection of cotton socks for men. 
Basic Sports Sock for Men
Zkano's no show socks for men sit below the ankle and have a full terry lined interior that will give you ultimate comfort. Our no show socks are made with a specially designed heel tab and custom y-gore construction to ensure these cotton socks won't slip. Shop our no shows shocks in white, black and natural, in pairs or a pack of 3. These no show socks are also available in men XL size. For the athletic type, we make basic sports socks. Our cushioned mini crew socks will keep your feet cool while you work or play. This soft organic cotton crew sock has a deep contoured heel pocket to keep it in place. Our men's basic sport socks come in individual pairs or packs of 3.
Fun Socks for Babies, Toddlers & Kids
Shopping for comfortable organic cotton socks for kids? Keep your little one's feet warm and cozy with our organic cotton socks. Kids will love our colorful, fun striped socks. Zkano's organic cotton kid's socks come in baby, toddler, kid and youth sizes. Our kid's socks have a comfortable, foot hugging fit helping them to stay in place while providing soft, colorful comfort.
recycling & sustainability
Using sustainable processes, eco-friendly materials and giving back are important to us. That's why our fashion socks are made with certified organic cotton and dyed with low-impact dyes. Our eco-friendly socks are made in the U.S.A. in small batches at our family sock mill in Fort Payne, Alabama. At zkano we donate all our irregular socks to homelessness shelters and community organizations. The socks we make that aren't fit for donations and our manufacturing waste are repurposed or recycled. Once recycled they're transformed into fiber used for carpet padding in the automotive industry.
give us a shout
With so many creative patterns, stripes, dots and colorful designs, we hope you find the perfect pair of socks to match your own unique style here. If you're in the Fort Payne area, stop by the zkano mill shop and shop our organic cotton socks in person. If you have any questions about our sustainable socks feel free to contact us, we're happy to help.